I am usually a Broadcast Journalist for BBC News, specialising in User Generated Content. I have a particular expertise and experience in verification of amateur/user generated content for broadcast.
On the General Election 2015 I was one of the presenter producers for the the Election Results programmes, responsible for producing Laura Keunssberg throughout the night and into the next day. This involved producing and managing all the available social media for her output. I also worked with senior editorial figures, using my expertise to inform the style and content of social media during the results programme.
I was responsible for the delivery of social media for the London 2012 Olympics for the BBC across all platforms. This included project managing and producing all onscreen social media across BBC television output as well as integration to the BBC Sport website.
I have spoken about, been interviewed by numerous outlets and written on techniques and challenges in verifying video. These include the BBC World Service, BBC News, German Press Association (DPA) and the dutch newspaper Trouw.
I have been involved in much of the work around Revolutions and Uprisings in the Middle East – Tunisian, Egypt, Libya, Bahrain, Syria, Yemen. I was part of the team responsible for verifying the first images of Muammar Gaddafi for BBC News when he was captured by Misratan Freedom Fighters.
I am formerly an Interactive Content Producer for BBC Radio 5 live and BBC Radio 5 live sports extra.
I also write about cycling for BBC Sport and have appeared on BBC Radio 2's Chris Evans show as a BBC cycling reporter.
Here's my recent CV as a PDF document (required Adobe Reader): Alex Murray CV
You can find me in a number of places online at present
You can probably find me on a few more that I've forgotten about or don't use anymore just by searching. If you find people you think are me, please let me know. They may be bits of me I've left there and forgotten about entirely.
You'll probably be able to guess which identities I stick to online from the ones above. It's not that challenging really.
Career Highlights
Panorama (January 2005 – March 2006)
Key projects included the development and delivery of broadband, on-demand video content to the site and the expansion of the user base and content range. In addition for this I also developed the depth and breadth of editorial content and helped improve the broadcast team's understanding of the potential of interactive to enhance their programmes.
This included involvement in user-generated content such as Bird Flu: your questions answered, where the programme was based on emails and text messages sent via the site. Another well-received proposition was the live Q&A with Peter Taylor, following his London Under Attack programme on the bomb attacks in London on 7 July 2005.
Sportdaq (May 2004 – December 2004)
After the successes of Celebdaq, I moved on to be Acting Producer of Sportdaq, the "son of celebdaq" game which used the same premise of a stock exchange but instead of celebrities it used the sporting pages of the press and the names therein.
A collaboration between BBC's interactive drama and entertainment department and BBC Radio Five Live, it launched in the summer of 2004 following a rapid development and build, which I oversaw alongside the Senior Producer and Project Manager.
From the outset I wrote and subbed almost all of the copy for the static areas of the site as well as contributing news stories alongside Five Live's own interactive team, who he was responsible for training in the running of the site while retaining overall control of its administration.
By the end of its initial launch phase it had exceeded its Key Performance Indicators by a large margin and was regarded as a strong asset in Five Live's interactive portfolio.
Celebdaq (August 2002 – May 2004)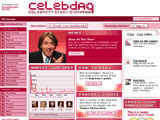 As Assistant Producer, from its earliest days, I was a key part of the team which helped make the BBC's Celebrity stock exchange into a BAFTA-award-winning site (BAFTA interactive award for Best Entertainment 2004).
Writing the copy for the site and working as part of the television production team for BBC Three, I helped turn the website into one of the most talked about websites of the year in 2003 and one of the hottest online properties going, with over 300,000 players.
The Celebdaq team and concept was also praised by the then Director General of the BBC, Greg Dyke, as a model for the ways in which the BBC should work in future.
The project included a great deal of interactivity, from messageboards to broadband streaming and mobile platform propositions, as well as an interactive user forum, "The Board Meeting".
The Atomic Kitten Shrine (March 2000 – August 2002)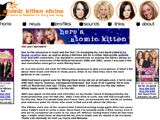 One of the first sites I designed, The Shrine was initially a testing ground for some of my ideas and an outlet for my love of Atomic Kitten. why have I included it here? Because it helped get my my Celebdaq job and because it shows that the best way to get noticed is to do something: build your own portfolio.
Started in early 2000 the site became one of the most popular unofficial Atomic Kitten sites and was recommended by their official site. It also received several mentions on their site.
The site philosophy was to offer an alternative to other fan sites. It did this both in tone and style and by being made up entirely of original material, sourced from news stories and the writers' own views.
The tone was slightly more mature and journalistic than your average fan site and offers a full history of the band from their earliest days to the present, as well as having a complete news archive. By the time Atomic Kitten split it was receiving over 100,000 page impressions per month.