Tomorrow will be my last day based at BBC Television Centre, Wood Lane, London W12 7RJ. I first worked here in 2002, a few months after joining the BBC for the first time. It is a special place that will be much missed by many.
Don't believe the denigration of it by the likes of John Simpson, that's just what BBC staff do: we publicly complain about what we can complain about because there's lots we're not allowed to complain about publicly. Deep down there is a strong attachment and genuine love for this eccentric building with its hidden genius.
The home of BBC Television
When I started at the BBC in August 2002, working as the Assistant Producer on Celebdaq, I was initially based at Centre House. Separated by the Central line and Wood Lane, we could see TVC as it's universally known and wanted to be there.
Why? Because there was and is something incredible about being able to say "I work for the BBC at Television Centre". Guitarist Steve Cropper said – in the BBC's Dancing In The Street – that going in every day to Stax was like going to church. That's how I felt about working at Television Centre (albeit with less religious observance).
I worked in the East Tower when we moved over at the beginning of 2003 for the television programme on BBC Three and I remember how validating it felt to be working at what was then, and still is in the minds of many, where the BBC comes from.
You got to walk down corridors and see the biggest names in broadcasting, many people you've grown up admiring and aspiring to be in the shoes of, going about their work. There was something really inspiring about knowing that just down the hall, Jeremy Paxman is prepping to put another politician on the rack while Top Of The Pops are recording performances by chart toppers.
Or that you look out of the window of the canteen and can see the Blue Peter garden. The memories are so varied:
Nearly knocking Sir David Attenborough and Sir David Frost out with a swing door while rushing along with a tape for broadcast.
Absentmindedly staring into the middle distance and realising that I was being stared down by Jeremy Paxman in the sandwich queue.
A colleague declaring their working life complete having seen Jeanette Krankie in a giant baby grow smoking a ciggie out by Stage Door where the taxis arrive and depart.
Having a wrap party gatecrashed by The Libertines in ponchos after they'd been recording for Jools Holland and our Production Manager throwing them out not knowing who they were at a time when they were the hottest band in the UK.
Catering to all
I've eaten a lot of meals at TVC, some of which you wouldn't feed to a starving dog. It's with good reason that The Filling Station, despite name changes, is universally known as The Killing Station – the twitter account is not a parody so much as a factual report from the frontline of BBC catering.
It's always been a great leveller: that no matter how grand your job title or salary, you still are the same person as the lowliest receptionist when faced with the culinary options. You might be the Director General but in the canteen, you too will face the warm, fuzzy indifference to rank from the food and sometimes staff, as you try to identify whether the day's special is actually a trick question.
When I started there were two full restaurants running lunch and dinner services with completely different menus in the Restaurant Building (Classics and Showstoppers). There was also The Foyer, where programme executives would take their latest star presenter for lunch to show them off the rest of the BBC if they didn't want to risk them getting bare soused in the BBC Club Bar, where inexplicably the same food cost more.
For a sandwich there was Green Tea Bar, where portion control was an unheard of concept. Rarely have the limits of how much filling a baguette can take been so rigorously tested on a daily basis.
But the one place that never got the catering wrong was Snack Express. Out by the satellite dishes, housed in what was essentially a mobile kitchen van, it's menu was pure British manual labour: Breakfast rolls with a choice of freshly fried bacon, egg, sausage, tomato or mushrooms ; strong tea; lunchtime burgers or sausage with onions and a full fat Coke; full range of condiments and sauces, both red and brown.
It's where you took your hangover and came back cured. It was where you got the best gossip about what was going on elsewhere and where you promised to go to cheer everyone up with a round of bacon rolls on a grim midwinter morning. I cannot begin to explain how sad I felt the day I came in to work and realised it was gone.
Best bar in the world
The BBC Bar was, for many years, where the real business was run from. Everything of significance in the BBC could probably be traced back to the bar somewhere in its lifetime.
Coming in for coffee in the morning, you'd see a table surrounded the night sparks, scene shifters and other craft workers coming off the nightshift. They'd be on their second pint and the ashtray would be full. By the time you came back for lunch, they'd have probably sloped off to a quiet corner to sleep it off. Truly, it was a 24 hour operation.
It was where, mid-morning through to mid-afternoon, you'd deduce who was moving jobs and who had a grievance to air, loudly and for the benefit of whoever might happen to hear their conversation in passing. Going to the bar was sometimes the most sensible course of action in developing your career – if you could manage the politics of a round of lunchtime drinks in there, you could cope with most things that would befall you in the BBC.
And from about 4pm it was where you slunk off to drink, smoke and laugh about work. You were always certain to see familiar faces in there. It was less a joke and more a statement of fact that they best way to find certain reporters or producers would be to go to the bar. Sometimes you'd see someone looking worse for wear mid-afternoon and then delivering a brilliant report on the Six or Ten O'Clock News.
"Meet you in the bar", such a beautifully phrase that holds so many great memories.
Over the years the departure lounge at Stansted furnishings were superceded by imitation private members club decor. At one point it was obvious that the place had been redecorated by someone who spent a lot of time in Century on Shaftesbury Avenue – perhaps making the talent feel at home.
These days, it's glory has passed, with shorter opening hours and staff with far less time for  simply talking to each other.
All lost in the maze
It's a confusing building to find your way around, not helped by the ad hoc placement of operations over the year. But you strip it back to the core function of broadcasting studios and there's a briliance that goes un-noticed by many.
Take for example the circular shape of the main hub in which studios TC1 to TC8 are based. There's a ring road that runs along the back of them and each one opens out onto it, meaning that loading in and out is universal to all of them and can be done without fuss or bother to anyone who doesn't need to see it. No crates being hauled down corridors, no vans or trucks blocking up other areas. It's a small thing that actually makes a significant impact on working here.
Like the catering, finding your way around was a leveller, initiative test and brainteaser wrapped into one. Here's an example: Where is TVC 5556? Next to TVC5554 or opposite TVC5555? No, it's inside TVC 5550.
You were only as good as what you knew. Being able to find your way to an obscure meeting room in the basement of Stage 5 TVC or how to get from the East Wing to TC11 was as valued a skill as whether you could type an Aston without a typo. Actually, the former skill was probably seen as a key requirement to be able to progress to the latter.
Family breakup
Sometimes people forget that beyond the presenters, producers and journalists, there's an entire family of people who make this place run. And I mean it when I say family. There's people here who I've seen almost every day of my working life here, whose names I can't remember or don't know but who I can smile at without feeling like an idiot.
When I was at BBC Radio 5 live there was Martha, the Polish girl who ran the cart on the Second Floor which served the Newsroom with tea and coffee. She loved working here and the opportunity of talking to the biggest journalists in the world which also gave her the perfect opportunity to improve her English. And we all loved talking to her. Her successor, Dorothea carried on that tradition of caring about her customers as if they were friends. It's people like that who bind this place together.
There's the porter with a magnificent moustache who always has a smile and a nod as he goes about his business of moving our parcels and boxes from one end of the building to another.
There's the lovely West Indian lady who has worked in Centre House, White City and Green Tea Bar in the time I've been here and who always has a friendly word for you. No one minds that she still can't remember where everything is on the till.
 So this is goodbye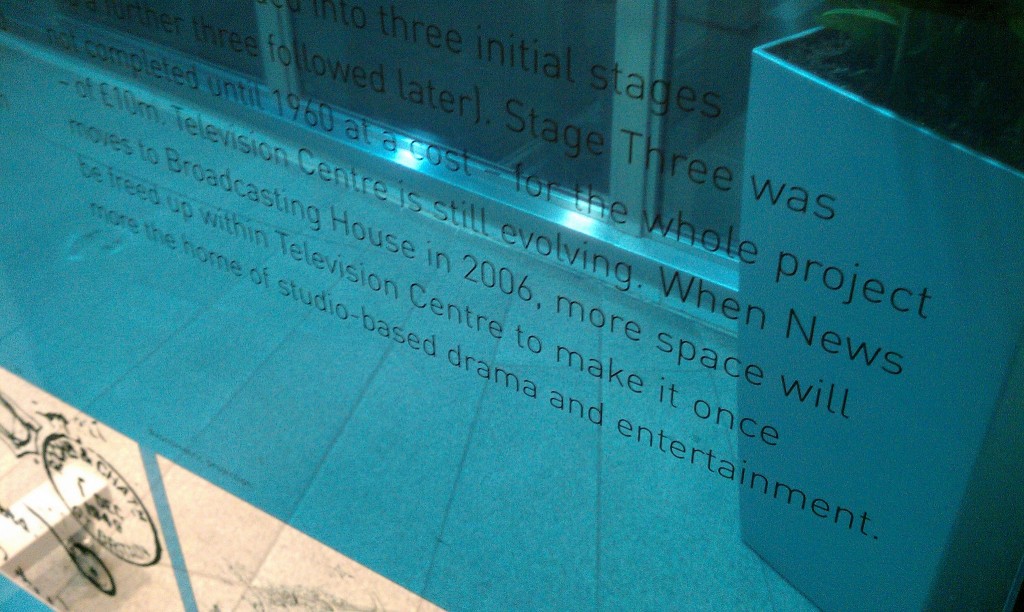 Tomorrow, for perhaps the last time, I'll come in through the Frithville Gate on my bike, park next to the massive satellite dishes that nestle next to the Hammersmith and City line, somewhere on what was the site of the 1908 Great Exhibition at White City.
By March 2013, it will join the long list of former BBC buildings deemed surplus to requirements. In my time that includes Bush House,  Centre House and Kingswood Warren. Even if – following redevelopment – it becomes the base of BBC Studios and Worldwide, it will be nominally a BBC building again, it won't be returned to what it was as the BBC will have abandoned W12 as its London base.
The list of property the BBC once owned in London is longer that the ones it still does: Lime Grove Studios, K-West Hotel, The Langham, The Lawns, Shepherds Bush Empire (Television Theatre). We even built over the 1908 Olympic stadium with 'Ceaucescu's Palace', better known as White City.
No one has really mentioned the long term economic impact on the area: the BBC's departure represents a lot of people to take out of the local economy. Anecdotally, one of the falafel shops in Shepherds Bush Market claims to have lost 40% of their trade now that Sport, Childrens and 5 live are no longer providing regular custom since their move to Salford, taking roughly 1500 BBC staff with them.
With everyone from News being moved back to New Broadcasting House and other parts shifted elsewhere it's in the region of between 5000 and 7000 people no longer contributing to footfall and purchasing in the W12 area on a daily basis. That's a lot of passing trade that simply won't be there anymore.
I will miss TVC. Broadcasting House may be shiny, new and exciting, but it will never be BBC Television Centre, Wood Lane, London W12 7RJ, the place I always wanted to work when I started my career in broadcasting.