1. "And for the rest, we live because we cannot afford not to, because that is life" – Renato Serra

I first read this quote in the chapter titled Obsession in Mira Liehm's Passion and Defiance: Italian Film from 1942 to the Present while studying at Manchester University (same drama course and year as Benedict Cumberbatch, not that I knew him) in the late 1990s. It has stayed with me – I even have it in the original Italian on my bicycle.
2. Learn to ride a bicycle
There are few inventions which have done more to liberate the individual. From the glory of Fausto Coppi, to Rwandan hill farmers able to get coffee to market quicker for a better price and Nobel Peace Prize nominated Afghan women's cycling team's liberation from a repressive lifestyle – the bicycle has enabled so much freedom for individuals.
My Raleigh Burner MkII, which I had from about the age of seven to my mid-20s, represented freedom and escape. It was reliable transport that I could use no matter what.
3. You can get away with just about anything in a good suit
And the greatest suit ever is the one Cary Grant wears in North by Northwest. Grey Glen check, three button but cut so it looks like two, worn with a white shirt, oxblood shoes and silver silk tie (and here Arnel sunglasses).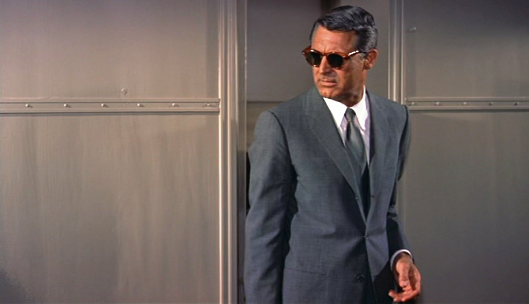 Unimpeachable class – probably made by Kilgour of Savile Row and Esquire agree it is the greatest suit in cinema.
According to my research, so long as you've got a good suit, a working credit card and a full packet of cigarettes, life offers boundless opportunity for fun.
Equally important is that a blue shirt and beige chinos should never be worn to work by any man with dignity and the ability to buy his own clothes. It is the very definition of the death of imagination, aspiration and individuality.
4. Don't be afraid to feel
Love, fear, excitement, joy, sadness. The myriad of human sentiment, don't fight it, live and embrace it. Your life will be richer for every emotion you discover.
5. You will succeed in ways you don't expect
I used to write an Atomic Kitten fan site/blog. It got me an interview at the BBC for the Top of the Pops website in the summer of 2002. I didn't get the job. But they called me back and offered me a six month contract on a new site called Celebdaq – a celebrity stock exchange game. For a while we were the hottest site in town, we nearly got sued, we won a Bafta.
I've worked on Panorama, Virgin Media, BBC Radio 5 Live, broke the news of Lady Thatcher's death on @BBCBreaking, verified the footage of Gaddafi's capture,  produced all the social media that was seen on the BBC's London 2012 Olympics television coverage, been part of the team that named Jihadi John as Mohammed Emwazi, produced Laura Kuenssberg on the 2015 General Election results programme.
And all because I wrote about being an Atomic Kitten fan.
6. Creating music with friends is untold joy
I've been in two bands – one at school where we played indie covers that we loved but no one else did (Homeboy by Adorable, In The Mouth A Desert by Pavement to name two) and one with two very dear friends in my 20s, where we got a track on a BBC One trailer and I swear we were briefly hotly tipped in Albania (thanks to BBC World Service). That song was Sunshine, and I still love the sensations and emotions it brings back.
As our lives changed, so did the music and we eventually parked our dreams. Sometimes I listen to those tracks and regret not pursuing it harder. Then I remember how much fun it was and regret nothing.
7. The best seat in the cinema is Row 3 in the middle
The screen envelopes your field of vision, the overwhelming scale and sensation of cinema feels right. And these days no one else seems to sit down there, so there's no distractions.
8. Be a stranger in a strange land
As life experiences go, being a foreigner is one everyone should experience. It helps you understand the world better to be the other person. It also taught me a lot about who I am and how people perceive others.
I lived in France for a year and a bit – I was the odd English guy in Vichy who liked to party. I was there for the World Cup in 1998, something I will never forget.
9. A dog will see you through the darkness
Fausto has been part of our family for four years. When we first got him he was a wild pup, now he's a loving companion.
Walking him has been hugely important to me. When your job involves the sort of horrors I see and hear about from witnesses on a daily basis, having someone who will listen and then lick me in the face keeps me sane.
10. 40 is less than half the way through your working life
With retirement now likely to be at least 67 by the time I retire, it's even longer than it used to be. That lottery win better happen soon.